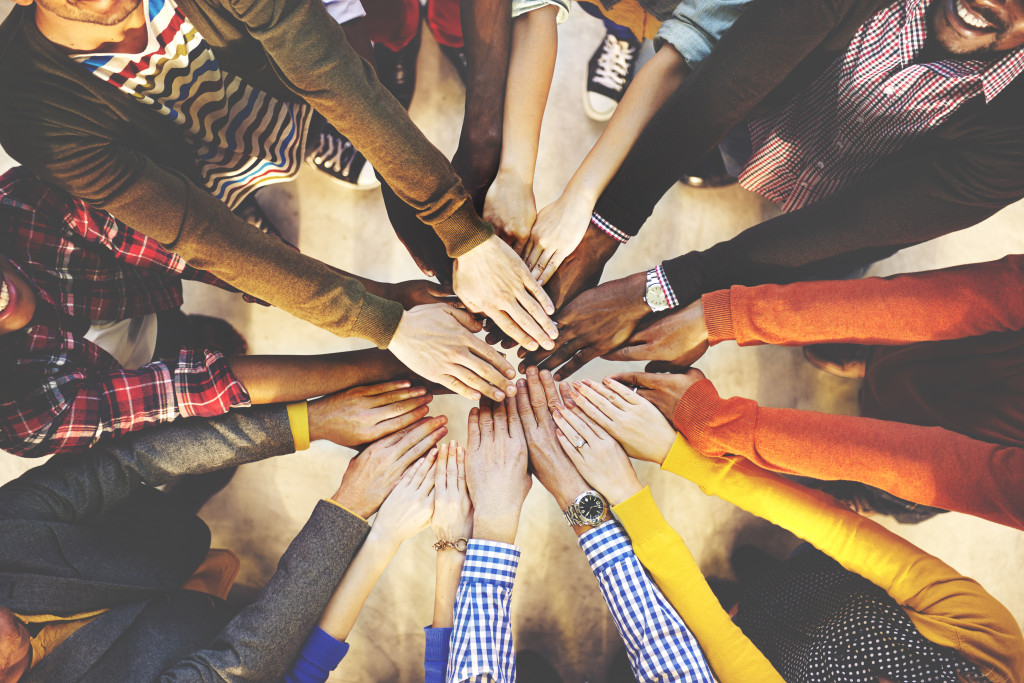 Clubs, Organizations, & Other Activities
Club 
Information Page
Sponsor
Meeting Time
Description
 
Akins Blooms

Kayla Hughes

 

Contact sponsor for more information
 
 

Akins Journey Theatre (AJT)

 Morgan Podojil

(512) 841-9729

Contact sponsor(s) for more information.
AJT is the hub for school theater productions, musicals, and UIL One-Act Play. Contact Ms. Sansom or Mx. Podojil if you are interested in being involved in theater productions, either onstage or behind the scenes.
 
Anime Club

Ms. Paola Lozano-Sanchez

paola.lozano-sanchez@austinisd.org

 

Tuesdays after school in room 239. (4:35-5:45pm)
Come and meet other fans of all things Anime and Manga. 
 
Arabic Club

Mr. Phillips

brendan.phillips@austinisd.org

512-841-9035

Remind Code: @g6g623c

Tuesdays and Thursdays during B Lunch
  All are welcome to join the Arabic language and culture club.  It is a space to learn how to read and write in Arabic, learn basic Arabic speaking skills and gain knowledge about the diversity of the Arabic speaking world.  We will meet every Tuesday and Thursday during B lunch. 
 

Mrs.Teresa Grumbles
teresa.grumbles@austinisd.org 

512-841-9957

Mondays & Thursdays after-school in Rm. 114
The Akins AVID Club is dedicated to empowering first-generation high school students to get ready for college and university.  In the AVID club, students get to meet other AVID students to support each other as they plan for university life after high school. Students will also participate in community service and help spread a college-going atmosphere at Akins.
 
Akins Ballet Folklorio

Gina Garcia & Beatriz Valle-Moreno

beatriz.valle-moreno@austinisd.org

 

Mondays after school in room 317
Ballet Folklórico honors and promotes Mexican culture, heritage, and identity through traditional dance classes and performances for youth and the community.
 
Bioscience Club

Dr. Laura Govea

Room 403

512-841-9900 ext. 27927

TBD

Do you like science? Would you like to compete, meet other students and professionals?

Do you like challenge? Do you want to polish your resume?

In the club we will target:

Science Fairs

UIL: STEM-Science competition

Field Trips: Austin Library, Colleges, Industry Registrations, T-shirts, …

 
Diamond Dazzler Varsity Dance and Sparkling Sapphire JV Dance Team

Directors: Jordyn Marsh and Morgan Eddy

(512)-841-9810

Contact sponsor(s) for more information.
This is the dance organization on campus.  This organization is by audition only.  Auditions are held in March for the following school year.  Students will participate year round in Football performances, spring competitions, Spring Show, and multiple volunteer opportunities throughout the year.  
 
eSports Club

Mr. Carlos Lopez

(512) 814-9893

Monday-Thursday, 4:45-7:30 in Room 176
Esports bridges the gap between video games, college scholarships and student engagement! Come and learn how to leverage your love of video games into an exciting and rewarding extracurricular activity!
 

Fellowship of Christian Athletes (FCA)

Coach Joseph Saxe
joseph.saxe@austinisd.org 
(512) 841-9852
Wednesdays during Eagle Time, 10:25am-11:05am in Rm. 334
Fellowship of Christian Athletes (FCA)  is an campus organization.  FCA's mission is to challenge coaches and athletes on the professional, college, high school, junior high and youth levels to use the powerful medium of athletics to impact the world.  High Schools that have FCAs include BOWIE, ANDERSON, BASTROP, CROCKETT, AUSTIN, SAN MARCOS, WESTLAKE, LAKE TRAVIS, DRIPPING SPRINGS, and many others.  Everyone is welcome.  You do not need to be an athlete to join. 
 

FFA (Agriculture Leadership Organization)

Kayla Hughes

 (512) 841-9806

First Wednesday of every month from 6-730pm
This organization makes a positive difference in the lives of students by developing their potential for premier leadership, personal growth and career success through agricultural education. Students whose lives are impacted by FFA and agricultural education will achieve academic and personal growth, strengthen American agriculture and provide leadership to build healthy local communities, a strong nation and a sustainable world.
 

French Club

Ms. G. Garcia

(512) 841-9875

Contact sponsor(s) for more information.
Bonjour! Enjoy all things French in the Akins French Club. The French Club has been active for the last few years.  We do many fun activities.  
 

Gaming Club

Mr. Kyle Mueting

512 841-9900 ext.28186

Russell Cole

(512) 841-9900 ext. 28246

 

 

Fridays 4:35 - 6:00

RM 174

What is the Gaming Club?

A place where students can play games cooperatively and competitively. Where students can learn about game development and design. 

Who can join?

Anyone who loves playing games!

 

Gay Straight Alliance (GSA)

Lora Alaniz

@AkinsGsa

Contact sponsor(s) for more information.

We are proud to be a safe, supportive, and inclusive campus for all LGBTQ youth.

 

 

Get Creative Club

Mr. David Doerr
david.doerr@austinisd.org

(512) 841-9900 (ext. 28233)

Mondays, 4:45-6pm

Room 223

This club is designed to help creative students develop their employability skills by developing projects and portfolios to show potential employers their skills. The program also provides students with rewards and opportunities to participate in area events and a summer paid-internship program.
 

HOSA- (Health Occupations Students of America)

Jennifer Flores

Contact sponsor(s) for more information.

HOSA is an international student organization recognized by the U.S. Department of Education and the Health Science Education (HSE) Division of ACTE. HOSA's two-fold mission is to promote career opportunities in the health care industry and to enhance the delivery of quality health care to all people. 

HOSA provides a unique program of leadership development, motivation, and recognition exclusively for secondary, postsecondary, adult, and collegiate students enrolled in health science education and biomedical science programs or have interests in pursuing careers in health professions. HOSA is 100% health care!

 

Just Keep Livin Foundation

Matt Stricklen & Georgie Morrell

Mondays & Thursdays  at 4:50 PM

 in Rm. 220 

The Just Keep Livin foundation is dedicated to empowering high school students to lead active lives and make healthy choices so they can become great men and women.

Join & take part in:

Workouts, Games & Activities, Goal Setting, Healthy Snacks, Community Services, Guest Speakers, Field Trips, Gratitude  and more!!!

Please come to the program dressed to workout.  

We will provide invitations and parent permission slips to join the program. 

text@akinsjkl to the number 81010

 

Key Club

Mr. Henry Perez
henry.perez@austinisd.org

(512) 841-9034

Every other Thursday

4:45 pm-5:30 pm in Rm. 414

Mission Statement: Key Club is an international student-led organization providing its members with opportunities to provide service, build character and develop leadership. 

 

Vision: We are caring and competent servant leaders transforming communities world wide. 

 

Latinos Unidos

Ms. G. Garcia

(512) 841-9875

 

Wednesday After School in Room 318
Latinos Unidos! This is an organization for all students.  We meet every other Wednesday after school in Ms. Gina Garcia's classroom.  Students learn about Hispanic culture and awareness.  There is lots of camaraderie between all members.  Students who join this organization bring their cultural pride together from different Latin American countries such as Mexico, El Salvador, Honduras, Colombia, Costa Rica, Venezuela, Guatemala, Panama, Puerto Rico and many more countries. The most important event on our calendar is the Cinco De Mayo/Hispanic Heritage Presentation in the first week of May. 
 

 Peer Tutoring

Kyle Monk

Mon-Thu every week in the library 4:40-6:00
Students who join can get community service hours for tutoring other students (only requirement is that they have a B or higher in the subject(s) they tutor.) Anyone else who wants to be involved can visit the library to receive tutoring M-Thur 4:40-6PM.
 

National Honor Society

Kyle Monk

(512) 841-9739

Contact sponsor(s) for more information.
Akins High School's National Honor Society is an organization that recognizes students who demonstrate scholarship, character, leadership, and service. Students with a GPA of 3.50 or higher are invited by the faculty council to apply during the Spring semester for Sophomores and Juniors.
 

Peer Mentors

Coach Tallie Thrasher

Contact sponsor(s) for more information.
PALS® Program is a great organization for students wishing to community service and work with children and peers.  The PALS® programs at Akins is a TEA certified PAL® group.  Students work with peers at different locations such as Blazier Elementary, Palm Elementary, Bailey Middle School, Casey Elementary, Menchaca Elementary School, Langford Elementary School, and Paredes Middle School.
 
Role Playing Club

Mr. Greg Hall

 

Wednesdays and Thursdays after school, room 265.
If you like to play games, role-play and have a great time making up fantastical characters then the Role Playing Club is for you! Ever wondered what D&D was all about? EVERYONE IS WELCOME.  Enter if you dare...
 

Skateboarding Club

Ms. Ebone Zamarron
ebone.zamarron@austinisd.org 

(512) 841-9755

Currently on Hiatus

Contact sponsor(s) for more information.

The Akins Skateboarding Club is dedicated to empowering students in the areas of community development, creativity, personal resilience and fitness. We combine social and emotional learning with skateboarding to build creativity. No prior experience is required. Skateboards and safety equipment are provided. 

 
Spanish Club

Ms. Muniz-Chavez and Ms.  Ferrel

Portable 310

Every Monday from 4:45pm - 5:45pm


Spanish Club members will be exposed to and immersed in different kinds of music, dance, food, videos, movies, etc. to experience Hispanic culture and practice the Spanish language in authentic tasks.

Membership Requirements

Members: The Spanish Club allows any AHS student to join with an interest in Spanish

Meetings: Meetings will take place every Monday after school at 4:45pm. Active members must attend at least 10 meetings a semester.

Dues: There will be a $15.00 fee per member to be paid by Oct. 3 Club dues include a T-shirt that will be worn to all Spanish club events.

Events: Members must participate during Blue and Gold Night and the 5 de Mayo Show

 

Student Council

Ms. ALlison Larson

(512) 841-9900

2nd and 4th Wednesday every month
The Akins Student Council is dedicated to empowering high school student-leaders to use their voices at their campus.  Student Council's goal is to make recommendations for improving the learning environment for the Akins student body.
 
Tabletop Gaming Club

Mr. Eric Cannon

Thursdays after school 4:45-6:15

Members will learn and play a variety of strategy games, everything from standard board games to open table skirmish games with fully painted miniatures.  We'll explore the option of getting into the hobby aspect of miniature gaming, learning to paint miniatures and even build custom gaming elements. Anyone who enjoys playing board games and wants to explore unique and creative gaming options would make a great member.