AustinCorps Overview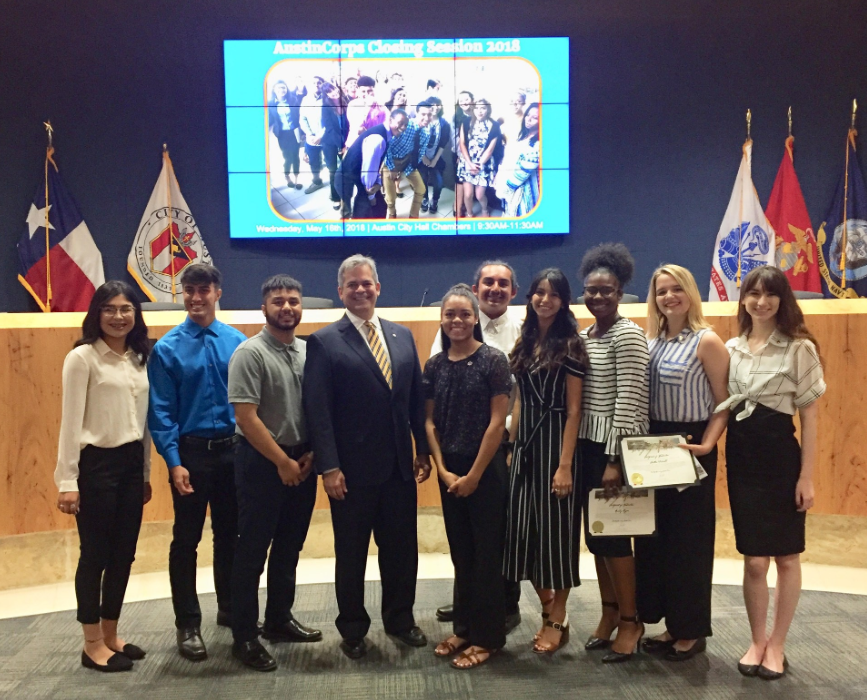 AustinCorps Government Intership
The City of Austin and AISD partner for AustinCorps, a civic education and leadership development program for Austin high school students.
AustinCorps combines classroom curriculum on local government with a hands-on experience at City Hall. In the fall semester, students meet twice weekly with city policymakers and administrators to become familiar with city government. In the spring, students complete a mentored internship with the city, and work in small groups to plan and execute a community project.
Mayor Lee Leffingwell said the main objective of AustinCorps is to promote community engagement among Austin students. "Our most valuable resource as a city is our young people," said Leffingwell. "If we can do more now to educate and engage our students in local government and civic life, the entire community will ultimately reap the reward."
AustinCorp is a great internship opportunity for Akins Seniors to work directly with the city government the second semester.  During the first semester students visit different branches of the city such as Homeland Security, Austin Fire Department, the Mayor's office, etc.  These visits are on Mondays and Wednesdays in the mornings.  As part of the internship students also learn about local government by doing community projects.  This class is a double blocked, project based class.
This 2021-2022 school year, students complete a project related to a local public policy area of their choice. This year we will be competing in the State Civics Fair with the Speak Up Speak Out program from the Moody College of Communication at the University of Texas. Winning teams will receive funds to use toward the implementation of their solutions.
For questions or information, you may contact Ms. Natalie Fontenot:
Natalie.Fontenot@austinisd.org
Google Voice: (512) 943-2392‬
Classroom Phone: (512) 841-9722